Psychology for Digital Behavior Change (DBC)
Learn how to build psychology-driven websites, apps & campaigns
Classroom & self-paced training
Join our students from beginners to pros in top companies:


Build psychology-driven products
that are motivating, usable and engaging
This course will teach you the skills and knowledge required to build psychology-inspired websites, apps and digital campaigns.
We cover 50+ behavioral change principles, psychological design patterns and a step-by-step behavioral design process that you can bring back to the office and apply immediately.
The class includes examples from many fields and industries, but you're invited to bring a challenge of your choosing so you can focus on applications specific to your work.
Our training will inspire you with new ideas, deepen your understanding of digital psychology and help you develop new skills in human-centered design.
We recommend this course as the starting point for most participants.
Skills and knowledge you'll gain
By the end of this workshop, you'll be able to:
In class or online, we'll cover:
Day 1
Using psychology in digital media
A realistic look at digital influence
Targeting the core drivers of behavior change
Building behavioral segments & personas
Psychology of human-computer relationships
Brand/product credibility & user trust
Behavioral science 101
Behavioral design process
Psychological wireframing
Controlling user attention
Boosting user comprehension
Motivating users with emotional neuroscience
Nudging users with decision science
Pricing psychology
Winning users' trust & building confidence
Day 2
Rapid persuasive design testing
How users conceptualize virtual space
Facilitating behavior change
Behavioral processes & user flows
Building intuitive navigational systems
Motivating & training users to complete tasks
Managing disengagement
Journey mapping through stages of change
Prototyping for behavioral design
Media psychology & perception
Digital social psychology
Digital context psychology
Psychological design audit
Psychology-inspired strategy & design
Behavioral science simulation game
Day 3
Behavior insights software
Behavioral insights report
How to combine psychological principles
Managing psychological backfires
Building psychological architectures
Motivation & efficacy design patterns
Landing page psychology
Data capture & storage strategies
Personalized feedback psychology
Feedback loop design patterns
Coaching & gamification design patterns
Architecting long-term processes of change
Building multi-channel engagement sequences
Reinforcing & shaping user behavior
Behavioral science & creative design experiments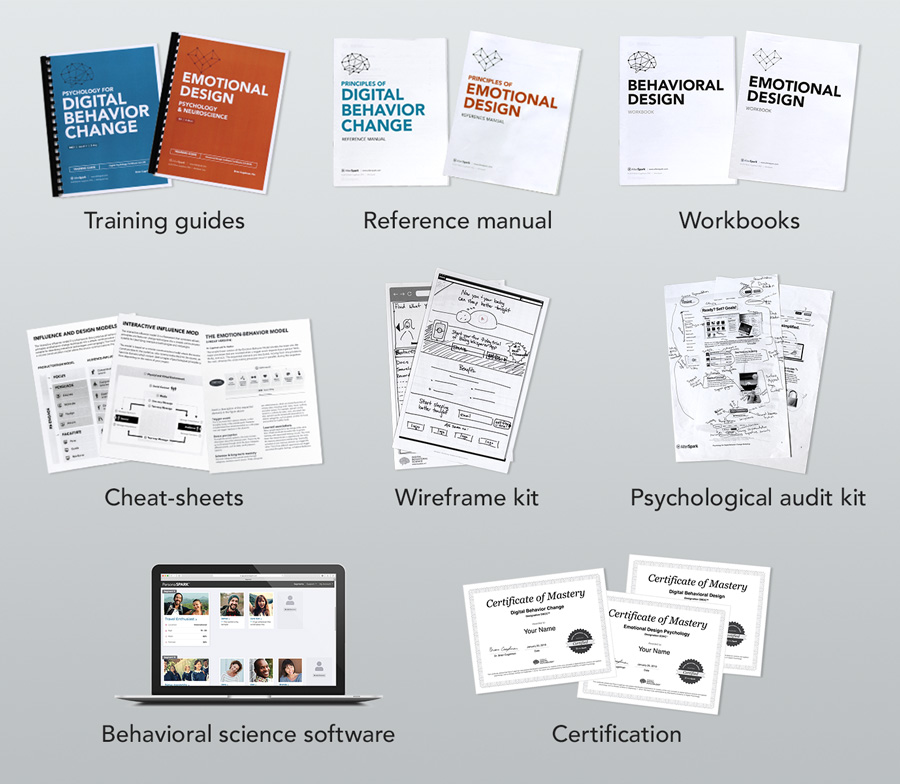 Classroom training kit
Training guide
Reference manual
Behavioral design workbook
Wireframe kit
Cheatsheets
Online training resources
On-demand video lessons
LIVE tutorial recordings
Wireframe kit (mini)
Behavioral design workbook
Closed community
Cheatsheets
Got a challenge? Bring it to class
A hands-on approach to behavioral design
To help you internalize the content, we've structured the course around a behavioral design process. We'll take you through a step-by-step process, leading to a digital psychology-inspired product of your choosing. This will reinforce the lessons and ensure that you can translate psychology into digital practice.
You'll develop skills in the overall process, which will touch hands-on skills in psychology-inspired software modelling, UX, information architecture, marketing, branding, and content strategy.
We've structured the design process across our two classes. DBC takes you through the process, ending with a testable lo-fi prototype. If you take EDP as well, you'll extend your protype, and fine-tune it.
The classroom design process is intermixed with the lessons, while the online class design process happens during the LIVE tutorials.
Classroom

Self-paced

Duration
2 days
Duration
15 hours of on-demand with 5 live group tutorials
Timing
9:00–17:00 with 1 hour lunch and two 15 min breaks
Timing
Self-paced, but during the LIVE term, schedule 3-4 hours per week for video lessons and 1.5 hours for tutorials
Instructional hours
13 hours, based on 6.5 hours of instruction per day
Instructional hours
15 hours of lessons. Plus, 7.5 hours of ABD tutorials covering hands-on skills for DBC.
Logistics
The class runs 9:00 am – 5:00 pm (but please arrive by 8:50 as we start at 9:00 sharp). There is a 15-minute break in the morning, an hour for lunch, and another 15-minute break in the afternoon.
Logistics
We'll grant you immediate access to the videos as soon as you register, plus access to the waiting room for the upcoming LIVE tutorials. You'll have access to the lessons, and then we'll start the behavioral design process during the LIVE training term.
Prerequisites
This is our most popular class and the one we recommend as a starting point for most people who want to learn how to apply digital psychology.
This class is suitable for those who use digital media across a range of applications, from tactical hands-on builders to strategic planners.
Looking to decide whether it is at the right level for you or want more information? Check out our FAQ or give us a shout.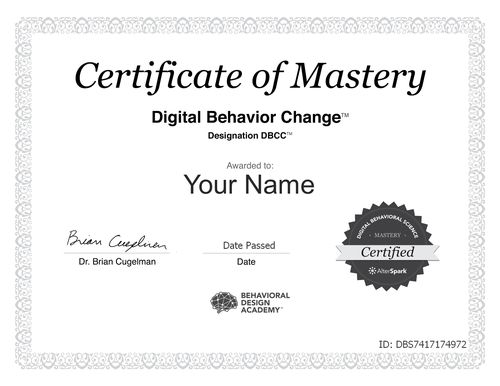 Certification
After completing all modules, covering 19.5 hours of instruction over 3 days in class, or 15 hours online, you will receive a certificate of completion.
If you wish, you may write the test to earn you "Digital Behavior Change Certificate (DBCC)". Three attempts to pass are included.
Learn about your certification options.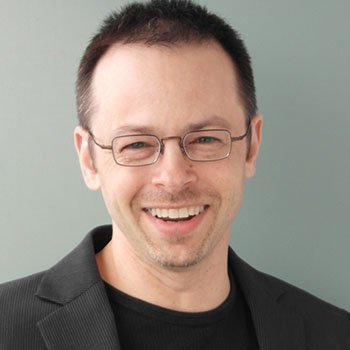 Meet your instructor
Brian Cugelman, PhD
With an extensive career running online projects and studies for industry, non-profit organizations, governments and the United Nations, Dr. Brian Cugelman has been working as an online behavior change specialist since 1997.
If you'd like to learn more, read Dr. Cugelman's bio or see what he has to say about his training system.
Who this course is for
This class is suitable for:
Usability and UI/UX professionals
Graphic designers and interactive designers
Digital marketing and advertising specialists
Content strategists and web writers
Product marketing managers
Digital project managers
Health promotion specialists
Conversion optimizers & researchers
Entrepreneurs
Industries that will benefit
Our training attracts an eclectic blend of professionals from:
Technology firms, cloud services
Digital agencies, creative firms
Non-profit organizations
Government, health sector
Retail businesses, consulting services
Financial services, insurance
Media, gaming, entertainment
Telecommunications, infrastructure
Small businesses, freelancers, students
Academia, behavioral science, psychology
How students describe our training
Brian's workshop was great! Very informative and I look forward to any other workshops that will be coming up.
Excellent content. Applicable everywhere. Thank you.
Great workshop! … We will start implementing some of the ideas in our projects.

Join thousands who've completed our training
From beginners to pros in top companies
frequently asked questions
DBC
We'll provide all the training materials, so you'll only need to bring a pen and some paper.
If you'd like to participate in our live polling and use our behavioral science software, bring a smartphone or tablet.
Our ABD tutorials cover the hands-on part of the lessons taught in DBC and EDP.
Complete our training system in different ways—according to your learning goals and schedule.
We know what works best for most students, so here's what we recommend:
Schedule 1. Start the video lessons now, then join our next LIVE term
If you complete all the video lessons before the term starts, you'll enjoy a more relaxed pace of 2–4 hours a week during the LIVE term. Students typically complete the video lessons anywhere from a few days to a few months.
Schedule 2. Complete everything in 9 weeks
Schedule 6–8 hours a week over the 9-week term to finish everything in one shot. We've listed the core video lessons you need to watch to get the most out of each tutorial.
Schedule 3. Jump into the LIVE tutorials first, then catch-up on the video lessons
Prefer to dive in and complete background lessons later? Join our ABD tutorials first and slowly go through the video lessons at a flexible pace of 2–4 hours a week. While you may not get as much out of the tutorials with this approach, you will get more out of the lessons later on, with clarity on how the lessons translate into practice.
We teach through a blended learning approach that combines video lessons with LIVE tutorials. Our course Psychology Digital Behavior Change (DBC) includes 15 hours of video lessons, while Emotional Design Psychology and Neuroscience (EDP) includes 10 hours of video lessons. Both classes give you a foundation in psychology, behavioral science, and neuroscience for tech. Then when you join ABD, we'll show you how to translate all those lessons into practice through project-based learning in an interactive online classroom.
We structured ABD as a step-by-step design process that integrates the lessons from DBC and EDP. You'll have a deeper learning experience if you take both courses. But if you're only enrolled in one, there's no problem following along. We summarize the main concepts so that it's accessible to students in all learning streams.
Enrollment
For LIVE online classes, we're flexible with late registration for about 1-week. Since we record each session, there's still time for you to catch up.
If you let it run too long, you may find it tough to get caught up.
If you miss the late registration deadline, you can still sign up any time and get access to our on-demand training. Then join any upcoming LIVE term.
We also have archive recordings of prior terms. Speak to us and we'll recommend a good term.
We do not allow registration after classroom training has started, as it's normally too late to catch up.
If you have a scheduling conflict in advance and still want to attend classroom training, we have a few different solutions depending on your situation. Let us know and we'll find the best way to help get you caught up.
We offer perks to alumni who are continuing their education. If you're alumni and wish to claim your community rate, contact us via the form. Provide details so we can look up your records.
If you have provided us with advanced notice that you couldn't make it to your workshop, you will be eligible for future access to the same workshop you signed up for, or the equivalent number of workshop days. However, the onus is on you to contact us in advance of the workshop you want to attend, for any city and time that is convenient for you.
If you have a scheduling conflict, you can move to any future LIVE tutorial at no cost, anytime during your term.
We recommend you pick one term and give it your full focus to get the best learning experience.
Logistics for classroom training
We'll provide all the training materials, which most people markup for their notes, so you'll only need to bring a pen, some paper and a laptop if you want to take electronic notes, but also if you'd like to participate in our live polling, bring a smart phone or tablet. We'll provide the wi-fi.
We don't provide lunch, no.
We'd rather let you choose your own options. We normally run our classrooms in lively locations, with many places to eat.
Also, we find that it's more helpful for everyone to walk about, rather than sit in the same room all day long.
But more importantly, we value inclusiveness. We prefer to omit lunch to lower our tuition fees so that more people can attend our training.
After you complete the registration for classroom training, you'll find the exact location printed on your ticket, with the street address and room number. The address listed on our website is typically the physical building, but not the exact room number. After completing your ticket purchase, we'll send you a workshop itinerary sheet with important details and the exact address, room number, and any relevant directions.
We'll provide all the training materials, so you'll only need to bring a pen and some paper.
If you'd like to participate in our live polling and use our behavioral science software, bring a smartphone or tablet.
Guarantees and Terms
All training come with our Guarantees and Terms. Please read these before enrolling.