Applied Behavioral Design (ABD)
Master behavioral design
with 9 weeks of LIVE group training.
Then deepen your insight with self-paced learning,
that solidifies your expertise in psychology-driven design.
Join our students from beginners to pros in top companies:


Learn applied psychology, step-by-step
ABD is our LIVE tutorial class, where over 9 weeks, we'll guide you through the behavioral design process.
We've structured ABD for both beginners and experienced professionals alike.
We only teach ABD LIVE to provide a proper learning experience.
By the end of ABD, you'll understand the behavioral design process and feel confident in your ability to build psychology-inspired technology.
You'll also get practice applying everything you've learned in DBC and EDP.
Your 9 Week Learning Schedule
To keep you focused, our LIVE classes follow a fixed 9 week schedule.
Each lesson covers another step in the behavioral design process.
To help you internalize the lessons, you'll enjoy a blend of lessons, interactive exercises, discussions, and more.
We only offer this class LIVE so you can ask questions, get feedback on your work, and participate in a proper learning environment.
Typically we run our tutorials on Thursday at 13:00 EST. But check the schedule to be sure.
We also record all tutorials, so if you have a scheduling conflict, there's no problem.
Here's what we cover in each tutorial:
1. Define your product & research plan (DBC)
We'll kick-off the term by meeting everyone, getting our project documents sorted, and enjoying a tour of the entire process. Then we'll start the first lesson on how to plan a behavioral design project.
2. Outline your audiences, impacts & behavioral insights (DBC)
We'll quickly cover the behavioral design process, then take a deep dive into segmentation and persona design from a behavioral science and psychometric perspective.
3. Build psychometric segments and personas (DBC)
This critical tutorial teaches you how to select the best psychological principles and theories for your particular project. You'll learn this advanced topic by using our cloud tools that simulate the process of psychological research.
4. Select a theory of change & brand personality (DBC)
This lesson will deepen your skills in selecting behavior change theories, and using psychological models to inspire creative strategies and interactive content.
5. Build behavioral prototypes & adaptive brand guidelines (DBC)
This tutorial shows you how to translate behavioral insights into standard prototyping tools. You'll gain a new perspective on building psychology-inspired branding guidelines, product specifications, color palettes, wireframes, and interactive prototypes.
6. Target emotions that motivate & reinforce user behavior (EDP)
For this tutorial, we'll revisit our audience research based on the neurobiology of emotion and motivation. This class rethinks digital strategies, UX, and content based on the emotions that drive and reinforce online behavior.
7. Experience the emotions that drive user behavior (EDP)
Through group exercises and psychometric polls, we'll dive deep into the emotions that shape online behavior. This class will get you to re-examine your entire approach from an emotional design perspective. You'll start to rethink everything at this point.
8. Prototype behavioral user journeys (EDP)
Building on the prior lesson, we'll examine stage-based design and look at long-term processes of change. We'll apply this to marketing funnels, long-term customer lifecycles, and detailed user flows. At this point, you'll update your prototypes with deep insight into your users, aiming for that smooth polish.
9. Behavioral research for digital products & campaigns
In our final tutorial, we'll show you the ropes of tech-focused behavioral pilot testing. If you want to put your prototype to the test, send it in. We'll use your mocks in the class to gather feedback and help drive your project forward.
A 7-Step Behavioral Design Process
Our process blends classic behavioral science with tech-industry design approaches.
A perfect complement to Design Thinking, Lean Startup, Design Sprints, Agile, or most other project approaches.
Best of all, our behavioral design templates are similar to standard industry prototyping tools—incorporate everything we cover in your daily work.
By the end of the LIVE tutorial series, you'll understand how to translate psychology to digital products.
And you'll get a suite of psychological design templates, tools, and models ready to guide your next creative project.
Here's our behavioral design process:
1. Planning
You'll lay the foundation for building a winning project that's politically grounded, user centered, and poised to win over stakeholders from the onset.
2. Researching
You'll plan your behavioral research approach while diving into segments and personas, mapping out the emotions that drive and reinforce user behavior.
3. Innovating
You'll learn how to evaluate psychological strategies, behavior change theories, and pick the winning psychological design patterns for your project.
4. Prototyping
You'll translate psychological theories into creative inspiration, digital strategy, and implementable prototypes. We'll use standard prototyping tools with psychology-inspired wireframes, color schemes, strategies, and more.
5. Piloting
Put your prototypes and strategies to the test. Our pilot testing approach covers user perception, cognition, motivation, trust, behavior, and long-term impact.
6. Launching & optimizing
Launching is the start of your optimization stage: you'll continue to fine-tune your project over time as we shift gears into cycles of innovation and improvement.
7. Evaluating & learning
To support continued learning, we collect the lessons and ensure that future projects build on the wisdom gleaned from the start.
ABD includes additional training materials for the behavioral design process: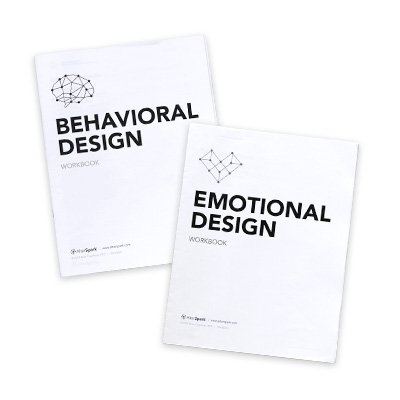 Step-by-step templates
You'll get a suite of step-by-step behavioral design templates. Each template includes instructions, a case study and follows a clear progression from start to finish.
Design publications
You'll also receive a suite of publications on psychological design principles, theories of change and emotional drivers of digital behavior.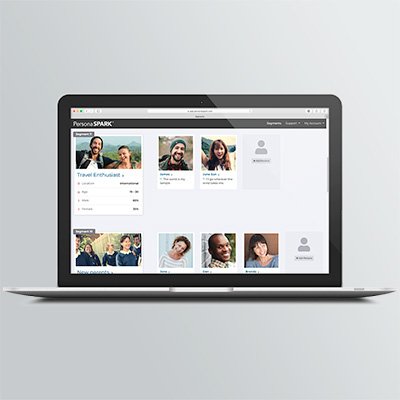 Behavioral software
You'll use software that simulates behavioral research, suggesting psychological strategies for each of your audiences.
Private support group
Our Facebook support group is active during the tutorial term, where you can post your questions and share examples.
How We Run Our LIVE Tutorials
We've spent over a decade teaching in small classrooms before moving online.
That's why our online tutorials might not be what you're used to.
Here's how we run our tutorials:
Fun and engaging
Some people teach behavioral science like a dull analytical task—but not us! We'll teach you how to translate classic behavioral science into fun and engaging exercises that lead to implementable prototypes. You'll learn how to achieve more in an enjoyable, creative format.
Interactive learning
To hone your skills in behavioral design, you need to become an active participant. You'll learn through interactive exercises, new lessons, and psychometric polling.
Student directed
As a student-guided live course, we'll invite you to vote on how we run the term and adapt the class. We're always keen to hear how we can improve our training, which keeps our training flexible.
Coaching approach
The entire class is structured like a group-coaching program to help you develop new skills. You'll have a chance to put your knowledge to the test, get feedback and even submit prototypes for user research. We want you to succeed.
A real LIVE class
Dr. Cugelman runs his tutorials like a real classroom. Feel free to keep your camera and mic on and ask questions. As a live tutorial, Dr. Cugelman encourages students to feel comfortable asking any questions and interacting at any point.
"After class" support
We don't officially offer this, but Dr. Cugelman normally sticks around after each tutorial to go over student homework and take up any issues. This is an informal practice that Dr. Cugelman arranges on a case-by-case basis each term.
Plain language & down to earth
We'll help you understand concepts from psychology and neuroscience in plain language with down-to-earth examples.
Behavioral design sprint
Some students learn best by working hands-on. The term runs like a design sprint, where you'll move from a concept to a final prototype. Have a passion project? Bring it to class, gain a great learning experience, and finish with polished prototypes.
Learn Street-Smart Strategies
The moment you start using psychology in tech projects … expect a crazy ride.
Theory rarely goes according to plan.
Politics matter.
And you're usually struggling with legacy software, small budgets, and big egos.
We want you to succeed.
So we teach street-smart digital psychology.
You'll learn:
how to win over skeptics;
how to make better, psychology-informed decisions;
and how to use psychology to make your entire design process more engaging.
Here's how we keep our training street-smart:
We avoid common traps
Sometimes, the only way out of a problem is to avoid it in the first place! We'll show you how to avoid risky situations by taking a street-smart approach to behavioral science. You'll learn why psychology typically backfires, how to spot the risks, and when to steer clear.
We're sensitive to politics and big egos
We incorporate formal project management approaches that help you avoid problems before they happen. This will help you win political support, pacify big egos, and ground your initiative in stakeholder-centered strategies.
We employ organizational psychology
Tech projects that ignore people are more likely to fail. We'll help boost your project's odds of success by teaching organizational psychology strategies for building a solid human foundation.
We focus on practical decisions
Behavioral science allows you to make better decisions, whether it's picking the best option or avoiding the worst. It offers wisdom when your project enters uncharted terrain, and it helps you make smarter decisions along the way.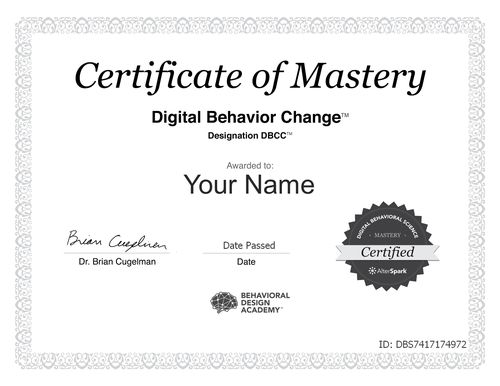 Certification
All participants receive a certificate of participation after completing this course. Those who submit all templates and a final prototype receive a certificate of completion.
Those who want to prove their mastery get three attempts to take the test to earn an Applied Behavioral Design Certificate (ABDC).
ABD Helps You Learn Our Entire System
We take a blended training approach to our online education by combining 25 hours of video lessons with 9 weeks of LIVE tutorials.
You'll build your foundation over two on-demand courses. The first, Psychology for Digital Behavior Change (DBC), covers digital psychology and behavioral science, teaching you how to translate psychology into digital products. Online, there are 15 hours of video lessons, which we teach over 3 days in the classroom.
Our second course is Emotional Design Psychology & Neuroscience (EDP), which explains the neuroscience of how emotions drive user behavior and teaches you how to design for specific emotions. Online, there are 10 hours of video lessons, which we teach over 2 days in the classroom.
Then, ABD helps you internalize the lessons and build new skills. In an interactive classroom, you'll learn how to apply everything you've learned in our video lessons. You could say ABD is where it all comes together.
When we teach in classrooms, we weave the behavioral design process into our lessons, guiding you through the process during our lessons, scenario-based learning exercises, design challenges, and lots of hands-on exercises.
Thinking of Taking ABD with Just One Other Class?
Here's what you need to know
Since ABD shows you how to implement the principles taught in DBC and EDP, you might wonder how it works for students enrolled in just one class.
You'll certainly have a deeper learning experience if you take both DBC and EDP, but
if you're just taking one course, you can still follow the ABD tutorials.
Our ABD tutorials are for all students in all educational streams.
That's why we summarize the key lessons for each tutorial—to ensure all students can follow them.
Here's how the 9-week edition of ABD helps you internalize the lessons from DBC and EDP:
Weeks 1–5
The DBC-related tutorials cover the psychological design process from concept to prototype.
Weeks 6–8
The EDP-related tutorials cover user-centered design from an emotional-motivation perspective.
Week 9
The final tutorial covers product research and prototyping related to both classes.
ABD runs on a rolling basis
Start the self-paced lessons today, then join any upcoming term.
You can only take live ABD classes with our training packages.
ABD
Our ABD tutorials cover the hands-on part of the lessons taught in DBC and EDP.
Complete our training system in different ways—according to your learning goals and schedule.
We know what works best for most students, so here's what we recommend:
Schedule 1. Start the video lessons now, then join our next LIVE term
If you complete all the video lessons before the term starts, you'll enjoy a more relaxed pace of 2–4 hours a week during the LIVE term. Students typically complete the video lessons anywhere from a few days to a few months.
Schedule 2. Complete everything in 9 weeks
Schedule 6–8 hours a week over the 9-week term to finish everything in one shot. We've listed the core video lessons you need to watch to get the most out of each tutorial.
Schedule 3. Jump into the LIVE tutorials first, then catch-up on the video lessons
Prefer to dive in and complete background lessons later? Join our ABD tutorials first and slowly go through the video lessons at a flexible pace of 2–4 hours a week. While you may not get as much out of the tutorials with this approach, you will get more out of the lessons later on, with clarity on how the lessons translate into practice.
To get access to ABD tutorials, first you need to enroll in DBC, EDP, or the complete bundle. Next, complete the ABD sign-up form, where you can join any upcoming tutorial term. Once you're enrolled, this is straight-forward.
If you have a scheduling conflict, you can move to any future LIVE tutorial at no cost, anytime during your term.
We recommend you pick one term and give it your full focus to get the best learning experience.
We teach through a blended learning approach that combines video lessons with LIVE tutorials. Our course Psychology Digital Behavior Change (DBC) includes 15 hours of video lessons, while Emotional Design Psychology and Neuroscience (EDP) includes 10 hours of video lessons. Both classes give you a foundation in psychology, behavioral science, and neuroscience for tech. Then when you join ABD, we'll show you how to translate all those lessons into practice through project-based learning in an interactive online classroom.
We structured ABD as a step-by-step design process that integrates the lessons from DBC and EDP. You'll have a deeper learning experience if you take both courses. But if you're only enrolled in one, there's no problem following along. We summarize the main concepts so that it's accessible to students in all learning streams.
Corporate Training With Deliverables
We also offer Corporate Training where we'll train your team while building your digital products and campaigns.
Education, product design, and creative campaign content–that's a sweet deal. Contact us to learn more.
Join thousands who've completed our training
From beginners to pros in top companies
Guarantees and Terms
All training come with our Guarantees and Terms. Please read these before enrolling.