Three Training Formats
You can complete our training in any of our three formats.
Even though we cover the same content, we use a different teaching approach for each format.
Some teaching approaches work better in a real classroom, while others work better online.
Yet others require extreme customization that is only possible in corporate training.
Here's a description of how we teach each format:
Online
You'll enjoy our blended training approach to online education. It includes self-paced video lessons, publications, and optional testing.
We also include 9-weeks of LIVE tutorials where we'll coach you through the behavioral design process.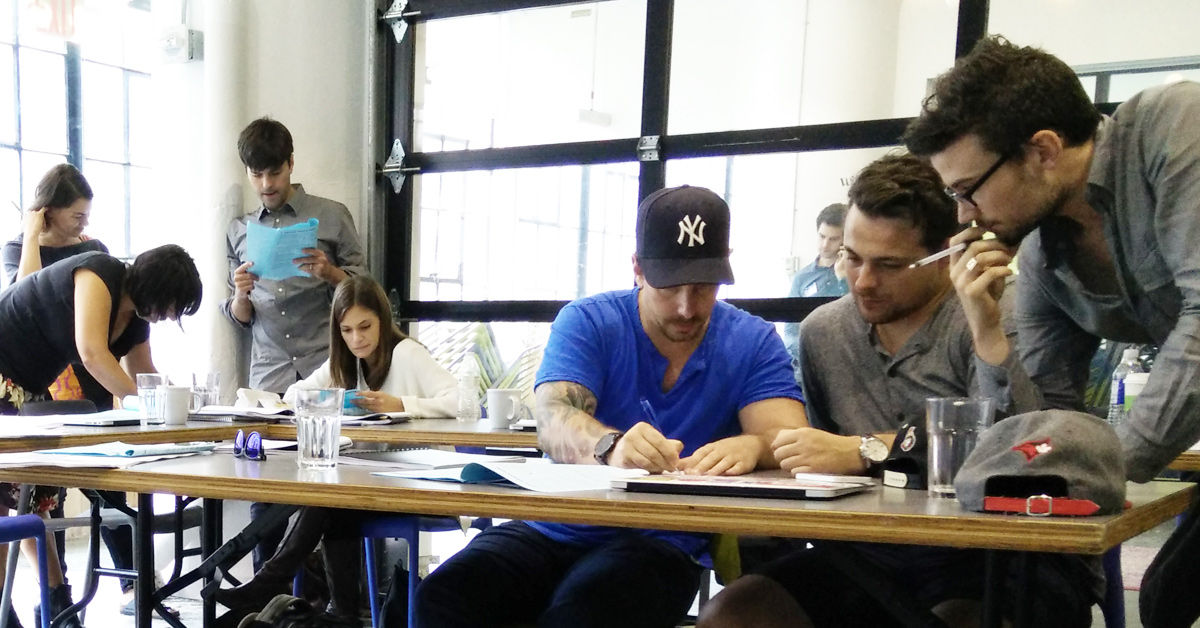 Classroom
Our classroom approach blends formal lectures with a lively approach to learning that includes interactive exercises, experiential learning, design challenges, educational games, and more.
You'll receive a print training kit, certification, and testing.
Corporate
If you'd like customized education tailored to your exact needs, consider our corporate training.
Reach out to us so we can discuss options and co-develop training that meets your exact learning needs.
Select the Right Format
It's important that you pick the format that makes the most sense for you.
Whether it's the convenience of online education
or the fast-paced approach offered in our classroom,
you decide what works best.
Over the years, we've discovered what works for each format.
This table provides an overview of how our training varies by format:
Online

Classroom

Corporate

DBC Timeframe: 
15 hours
DBC Timeframe: 
3 days
DBC Timeframe: 
3 days
EDP Timeframe: 
10 hours
EDP Timeframe: 
2 days
EDP Timeframe: 
2 days
ABD Tutorials: 
9 weeks LIVE ABD tutorials
ABD Tutorials: 
Integrated into class
ABD Tutorials: 
Integrated through a group design project
Time: 
Self-paced with LIVE tutorials typically 13:00–14:30 EST
Time: 
Class: 9-5; lunch: 12:30–13:30; and 2 breaks for 15 min
Time: 
Typically 9–5, but we're flexible
Materials: 
On-demand video lessons and print materials
Materials: 
Full printed kit and all lessons
Materials: 
Customized
Access : 
2–3 years
Access : 
During the class
Access : 
During the class
Prototype development: 
At home
Prototype development: 
In class
Prototype development: 
To be discussed
Personal support: 
In-class, video and group chat feedback with open time after tutorials
Personal support: 
In class support
Personal support: 
Optional
Simulation-based learning: 
Behavioral design simulation software
Simulation-based learning: 
Behavioral design card games
Simulation-based learning: 
As required
Certification test (optional): 
✔️
Certification test (optional): 
✔️
Certification test (optional): 
✔️
Behavioral science software: 
✔️
Behavioral science software: 
✔️
Behavioral science software: 
✔️
Tuition range: 
$399-$798
Tuition range: 
$499-$1,248
Tuition range: 
From $5,000

Online

Classroom

Corporate
How we teach
Here are some of the teaching approaches that you'll find in all of our training.
Interactive lessons
To help you develop deeper insight, you'll join anonymous psychometric polls, discussions about behavioral impacts, and various exercises around psychology-inspired design and analysis.
Infographic science
Rather than explain concepts with long lectures, we use lots of visuals to explain ideas. Our slides and handouts are largely infographics built from scientific studies.
Experiential learning
Rather than tell you about psychological concepts, whenever possible, we'll lead you to experience them. Seeing is believing. There's no better way to make the principles stick.
Changing your world view
If you can't understand the psychology of daily life, you'll never be good at using it in tech. We'll cover the psychology that drives people and society, then go digital and examine the human factors that matter.
A bigger picture perspective
Dr. Cugelman is known for his research on merging different behavioral science fields into a simple unifying system. You'll get a bigger picture perspective that cuts across many fields and is presented in simple, down-to-earth terms.
Creative science
Not many people realize it, but evidence-inspired design is a creative act that's similar to a game of improv. People are normally stiff at first, but we'll help you loosen up and enjoy the science-inspired creative process in a fun way.
Behavioral design project
You're invited to bring any project to class, then develop prototypes as we coach you through our behavioral design methodology. The more you're invested in the project, the better you'll learn and the more you'll get out of the class.
Behavioral science software
We've developed software that predicts the psychological strategies needed to nudge your users and warns about backfire risks. Our software will suggest behavioral strategies to inspire your psychology-inspired technology.
Simulated scientific studies
We get you fully engaged in the lessons by replicating classic psychological experiments in the classroom. We won't tell you when they're coming, because experiencing a psychological effect is far more effective than being told about it.
Psychology for Digital Behavior Change (DBC)
Emotional Design Psychology (EDP)
Applied Behavioral Design (ABD)
Color Psychology for Behavioral & UXD (CBX)