Three training formats
Take our courses online, in the classroom, or through customized corporate options.
If you need to mix and match let us know.
Online Training
Enjoy over 25-hours of training, with LIVE tutorials, the full behavioral design process and optional certification.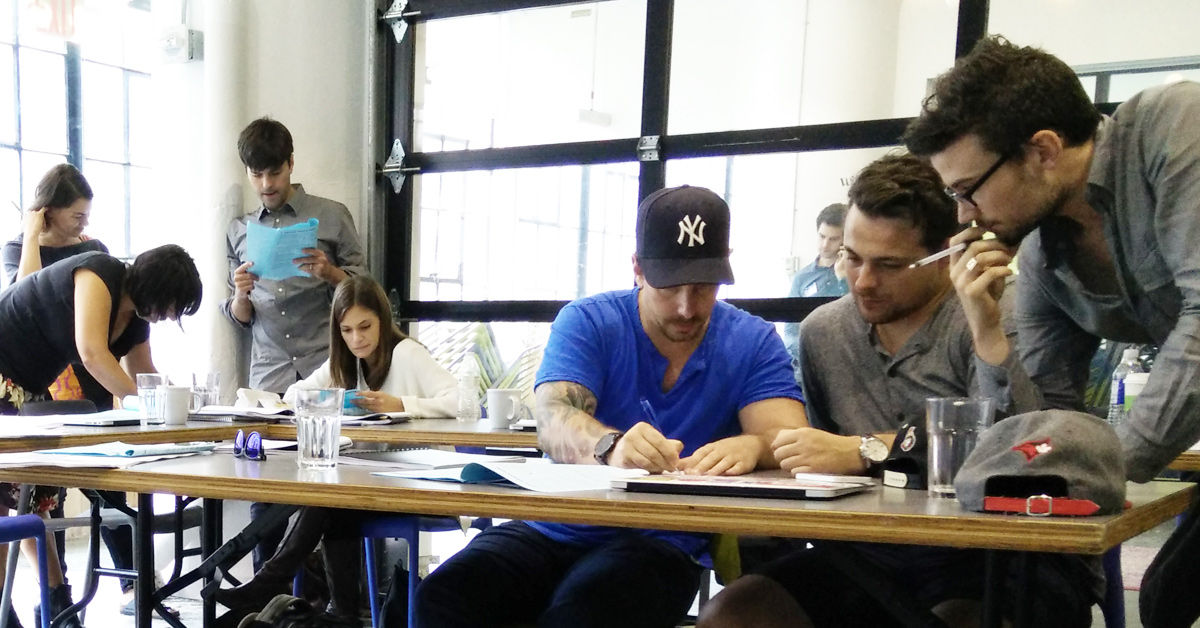 Classroom training
Fast-track your skills in behavioral design with 3-5 days of learning, interactive exercises, and design challenges.
Corporate training
Boost your team's expertise with interactive training, delivered online or in-person, tailored to your exact needs.
Join thousands who have completed our training
How we teach
We've spent years finding the best ways to teach applied psychology and behavioral design. Most of our content comes from scientific journals, and we shun pop psychology.
So how do we translate hard-core science into fun, intuitive, and practical training?
Here's how:
Interactive lessons
To help you develop deeper insight, you'll join anonymous psychometric polls, discussions about behavioral impacts and various exercises around psychology-inspired design and analysis.
Psychological infographics
Rather than explain concepts with long lectures, we use lots of visuals to explain ideas. Our slides and handouts are largely infographics built from scientific studies.
Your behavioral design project
You're invited to bring any project class, then develop prototypes as we coach you through our behavioral design methodology. The more you're invested in the project, the better you'll learn, and the more you'll get out of the class.
Scenario-based learning games
You'll use our cards to play educational games designed to help you develop expert-like judgement in applied psychology. We're grateful to Dr. Chandross for building these games.
Behavioral science software
We've developed software that predicts the psychological strategies to nudge your users, and warns you about backfire risks. You'll use our software to get behavioral insights into your target audiences, and then inspire your psychology-inspired creative.
Science-inspired creativity
Not many people realize this, but evidence-inspired design is like a game of improv. People are normally stiff at first, but we'll help you loosen up and enjoy the science-inspired creative process. It's so much fun.
A bigger picture
Dr. Cugelman is known for his research on merging different behavioral science fields into a simple unifying system. You'll get a bigger picture perspective, that cuts across many fields, that is presented in simple, and down-to-earth terms.
Deeper insight
Digital psychology is regular psychology with special rules. If you can't understand the psychology of daily life, you'll never be good at using it in tech. We'll cover the psychology that drives people and society, then go digital, and look at the human factors that matter.
Experiential learning
Rather than tell you about psychological concepts, whenever possible, we'll lead you to experience them. Seeing is believing. There's no better way to make the principles stick.
By providing a solid foundation in design principles from psychology and neuroscience, Brian empowers you to build more effective and efficient design solutions. Engaging, Informative, interactive and immensely valuable workshop for professionals at any level.
Brian's workshop was great! Very informative and I look forward to any other workshops that will be coming up in the near future.
An invaluable course to understand and practically apply persuasive digital behavior principles and architectures. I will certainly be applying this knowledge to my work as an e-learning/UI designer.
I greatly appreciated the content and the research that went into producing this coursework. I can find ways to use it immediately to make my work more effective.
This workshop helped me to gain more insight into becoming a better UX designer. The page audits are tremendous and the toolkit is something I will use on a daily basis.
Great workshop! ... We will start implementing some of the ideas in our projects.