Behavioral Design
Training for Teams
Virtual and Classroom Corporate Learning
Impact Focused & Scalable
Some of our happy corporate customers:
Build Products Your Users Love
We're AlterSpark. Our mission is to deliver the world's top training in applied psychology for technology.
We've spent over 10-years optimizing one training system.
This page describes how it works and how it can help your company.
If you have any questions, we're happy to tell you more.
Our Curriculum
We offer three courses that provide a comprehensive educational system.
Our two content courses, DBC and EDP, cover core lessons in applied psychology.
ABD is our hands-on course that takes students through the full behavioral design process.
All content focuses on translating psychology and neuroscience
to websites, apps, and digital campaigns.
The content is relevant to managers and front-line staff.
Applied Learning
Tailored to YOUR Business
Training is a big investment.
That's why our training is "Plug'n Play".
The idea is simple. Our system is full of placeholders
where we'll integrate your projects into the class.
You get work done, which cuts costs.
Plus, it boosts engagement and learning outcomes.
There are many Plug'n Play options.
Here are some examples: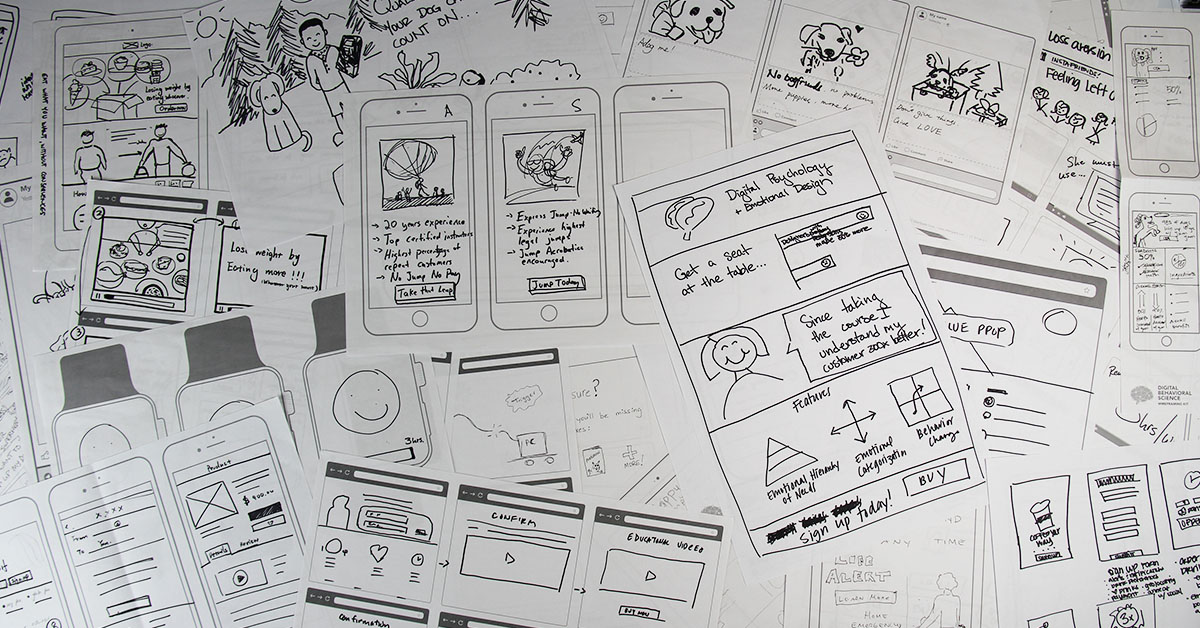 Build new mocks
We have several pre-training exercises to identify your biggest design challenges that we'll tackle in class. We'll plug your design challenges into the lessons with the most common psychological strategies used to solve those specific problems.
Rebuild your processes
One popular approach is to remodel one of your key processes. It may be a user journey, marketing funnel, onboarding process, or any digital sequence. We'll rough-out the process ahead of the class, then tailor the content around it. By the end of the class, you'll receive a clearly mapped out process, behavioral strategies, and wireframes.
Develop digital strategies
This plugin gets the class evaluating various psychological strategies to solve your unit's problems. It helps staff develop critical judgment and agility in psychology-inspired design. We'll run a quick process in advance where we identify your biggest problems and package them into a series of educational games to get your team thinking like behavioral scientists.
Optimize your targeting
Our most unique plugin dives deep into your user's mind. You need existing segments or personas that we can work with. We'll invite staff to complete a quick online exercise and then produce a psychological breakdown of your personas with recommended psychological strategies. In-class, your team will take user-centered design to the extreme.
Classic Behavioral Science
Made Fun and Engaging
People learn better when they're having fun.
We've spent years optimizing our system to evoke curiosity,
boost engagement, and help students appreciate why psychology matters.
Training Materials
Your training kit may include any combination of the following resources:
Pre-training needs assessments
Curricula tailored to your goals
Training guides
Reference manuals
Step-by-step templates
Workbooks
Oversized wireframe kits
Oversized screenshot kits
Post-training certificates of participation
Behavioral design guide
Optional post-training tested certification
Segmentation and persona software
Behavioral insight reports on key personas
Scenario-based learning games for your challenges
Support For Your Stage
In the last decade, tech giants, corporations, and governments
have scaled up behavioral science units.
Behavioral science is one of the hot new career paths.
Whether you're starting or have an established team,
we can support you in different ways.
1. We Are New to Applied Psychology
Applied psychology helps companies attract, retain, and upsell more customers.
It helps them build products that customers love.
If you're looking to upgrade your staff skill and deepen in-house capacity, our system is great for developing competence fast.
Even if you wish to hire full-time staff or consultants, you'll make smarter hiring decisions once you understand the behavioral science marketplace.
2. We have Capacity, But We Want More
At some point, it's more cost effective to develop in-house staff capacity rather than hiring external consultants.
If you're seeing good results in one area of practice, you might consider wider dissemination across departments.
With our adaptive and scalable training system, we can help multiple departments upgrade their skill in a format that is relevant to their work.
3. We Have Established Behavioral Teams
We can also help established behavioral science teams.
If you're frustrated by support staff who don't get behavioral science concepts, send them over. We'll bring them up to speed on key concepts, knowledge, skills, and judgment.
Most behavioral science teams work in digital but lack specialists in digital psychology. We can help you fill any gaps here. It's our specialty.
Who Benefits From Our training?
Our training works best for teams of digital-media professionals
who work hands-on and those working in project management.
Our training is suitable for:
Usability & UI/UX professionals
Graphic designers & interactive designers
Digital marketing & advertising specialists
Content strategists & web writers
Product-marketing managers
Digital-project managers
Conversion optimizers & researchers
Behavioral scientists without a digital media background
What Our Corp Participants Say
This workshop helped me to gain more insight into becoming a better UX designer. The page audits are tremendous and the toolkit is something I will use on a daily basis.

Great workshop! … We will start implementing some of the ideas in our projects.

I greatly appreciated the content and the research that went into producing this coursework. I can find ways to use it immediately to make my work more effective.

Virtual and Classroom Delivery
We deliver our courses through multiple modes; including classroom,
on-demand, and LIVE coaching.
We deliver training by:
1. LIVE Virtual Coaching
We run an 9 week LIVE behavioral design course where we guide students through the behavioral design process.
2. On-demand Lessons
We offer 25-hours of on-demand video lessons that cover all the content from DBC and EDP.
3. Classroom Training
We provide 2-5 days of classroom training for groups of 10-30 that covers all our courses.
Packages
We provide several standard packages,
and custom packages too.
Our classroom training runs 1-5 days, with the most common length at 2-3 days.
For remote training: choose your schedule and preferred training intensity.
Package 1: Classroom & Online Education 
Our in-person training fees are based on the number of participants, training days, and travel costs. All corporate training includes pre-training consultations and customized lesson selection.
Our online training is similar but based on tailored lessons combined with customized applied design tutorials.
If you prefer to build a product in class, we offer free applied learning plugins to plug your business challenges into the exercises. 
Package 2: Behavioral Design Sprint
We offer behavioral design sprints where we coach your team through the behavioral design process. In our product design sprint, we'll guide 5-10 of your staff through the behavioral design process.
By the end of the sprint, you will have a mature, and user-validated prototype.
We also offer a persona design sprint that helps you cleanup your target audiences, personas, and take user-targeted design to the next level.
Package 3: Educational Design Sprint
This is a flipped classroom where we'll coach your team through an applied behavioral science project while they complete formal training.
Your team will receive formal lessons while learning in the best way possible: by implementing a project.
During the process, we'll provide coaching, micro training, research support, and whatever it takes to help your team internalize the lessons.
How it works:
We'll provide on-demand training to help your staff learn the core lessons in applied psychology and neuroscience. We have 25-hours of lessons and can select the best ones for your project.
You'll choose a priority tech project where you need to deliver a tested prototype, campaign concept, or a suitable deliverable.
We'll start LIVE tutorials where we guide your team step-by-step through the behavioral design process. Now your team is not just learning behavioral science, they're doing it.
Your team will start weaving between the lessons and applications. This interplay between theory and practice is critical.
As we drive your project forward, topics that some staff initially disregarded suddenly appear valuable. Lessons that didn't make sense earlier now appear simpler. Questions, contradictions, and misunderstandings emerge. This is real learning.
While coaching your team in delivering a product, we provide micro-lessons to fill gaps and show typical hacks and solutions learned on the job.
When we hit the tough lessons in applied behavioral science, we'll act as friendly guides helping your team through uncharted territory.
During the transition from theory to practice, we'll become facilitators as your team takes their first step into psychology-inspired design. If they don't get it, we'll help them learn through exercises, simulation games, and other strategies we employ.
As the project advances, we'll start testing. At this point, research guides our product the final mile. We're not just teachers, but behavioral researchers who are training your team.
It's delivery time.
The deliverables you receive:
At the end, you'll receive a tested prototype.
But more importantly, your team will:
Be more user-centered.
Have confidence in applying psychology.
Understand core behavioral science principles.
Develop critical judgment on various psychological tools.
Feel comfortable breaking the rules, and know when to do so.
Know repeatable behavioral design processes for future projects.
Communicate better with shared psychological terms.
Work faster by using proven psychological models.
Prioritize smarter with a deeper empathy for users.
Be more creative with science-inspired creativity.
Why you should consider this package
Since this is a flipped classroom that delivers products, it's much more valuable than the static video lessons that are the industry standard.
Research shows that companies who use behavioral science make more money. In the ROI section below, we show how the cost of our training can be returned to your company many times over.
This course provides a training program that can be scaled across your organization.
You can use our program to catapult your company ahead of the pack. Competitors may have a behavioral science team, but they don't have a scalable training program.
We've already trained teams at Samsung, Salesforce, Accenture, Microsoft, and high-level government departments. Plus, we're published scientists who work for the United Nations; so we're credible.
Proud to Serve Awesome Students
From beginners to pros in the world's top companies
Have Questions?
Reach out and we'll find a time to connect
Contact us
Looking forward to speaking with you.
It's hard for us to calculate your return on training investment without a financial analysis.
To help you ballpark the ROI of our training, here's some food for thought.
Your Potential Return
One Gallup study found that behavioral science boosted corporate profitability by over 25% in gross margin.
If you're with a big company, what would a 25% boost in your competitive profit look like? For most large companies, millions in profit.
But let's be pessimists and assume the gallup numbers were only a 5% competitive advantage. What would that profit look like? Again, an impressive amount of money.
If you look at e-commerce, sales conversion rates hover around 1-3%. The work required to make a 0.01% increase often pays for itself many times over.
The reason why so many companies are setting up behavioral science units is that it produces happier customers while boosting profit. It's a wonderful win-win.
We don't know the return for your business, so you can use just 5% as a safe figure.
Your Approximate Investment
Your investment is our training fees plus your internal costs.
You'll find our prices on our website. They're standard market rates that go down with volume.
To put our fees into perspective, the average behavioral scientist in Silicon Valley earns $93,000 per year. With overhead, you're paying over $100K. Typically, we train teams for less than it costs to hire a behavioral scientist for one month.
Our fees are set, but your internal costs may vary. These include taking staff away from their work and opportunity costs as there are probably many competencies that you require. Depending on your situation, you'll have to ballpark these internal costs.
Your ROI
In ROI terms, this is how we see your decision:
If the training produces more profit through improved communication, productivity, or impact, then it's a good investment.
If we boost your competitive gross margin by 5%, then your ROI will easily cover the training multiple times over. You'd be a mega hero.
But in reality, training one team does not mean impacting an entire organization's profit. Also, you can't compare a 1-day class to our deepest educational service. So to be safe, you need to limit the scope of financial impact to your team's specific work.
You can estimate a 5% competitive boost in your specific area of work. If that comes out larger than the costs, then you have a positive ROI. If it shows a multifold return, it's a great investment.
How our Plug'n Play training boosts your ROI… 
We designed our training program to be Plug'n Play. This means we can tackle some of your project work in class, in a way that boosts engagement and learning outcomes to increase your ROI.
Since our Plug'n Play options solves business challenges, you're getting work done while training.
Now you can subtract some of your internal costs, since the training is also driving forward work.
This reduces your overhead, so your ROI is even better.
Our Flipped Classroom boosts it even more… 
Our Flipped Classroom package combines education with product delivery and applied learning.
Your investment is much lower in our Flipped Classroom, because you're paying us to coach, facilitate, and guide your team through their first behavioral science project.
This is our most effective training vehicle. Your team will work smarter, with more impact for years to come. You receive deliverables, so the actual training time and costs are much smaller than traditional learning.
The cost of the Flipped Classroom is larger, but so are the deliverables and depth of learning.
We estimate that the Flipped Classroom will return your investment many times over.
Scaling to the organizational level…
Let's look at the biggest potential return, at the organizational level.
Behavioral science departments typically work to optimize human behavior across organizations: sales, lead gen, HR, and client relations.
Here's something you wouldn't know unless your friends and clients manage behavioral science units:
Institutionalized behavioral scientists face incredible resistance. Third party departments don't like sharing confidential data and hate having outsiders tell them what to do.
If you want a modern culture that supports behavioral science, why not empower each unit to do it?
That's where we come in.
We are teachers of change. But also, our training can be used as a catalyst for organizational change.
We believe that the largest ROI will come from using our training to foster widespread competence and support for behavioral science principles.
We don't know if the 25% institutional advantage figure is real. But it does come from a credible research company and is consistent with the number we see at the program level.
Run your own ballpark calculations. If you see the potential, reach out.
Interested in learning more?