Color Psychology for
Behavioral & UX Design (CBX)
Learn the psychology of color
for digital products and campaigns.
LIVE online classes for 5 weeks
Join our students from beginners to pros in top companies:


Build better technology with color psychology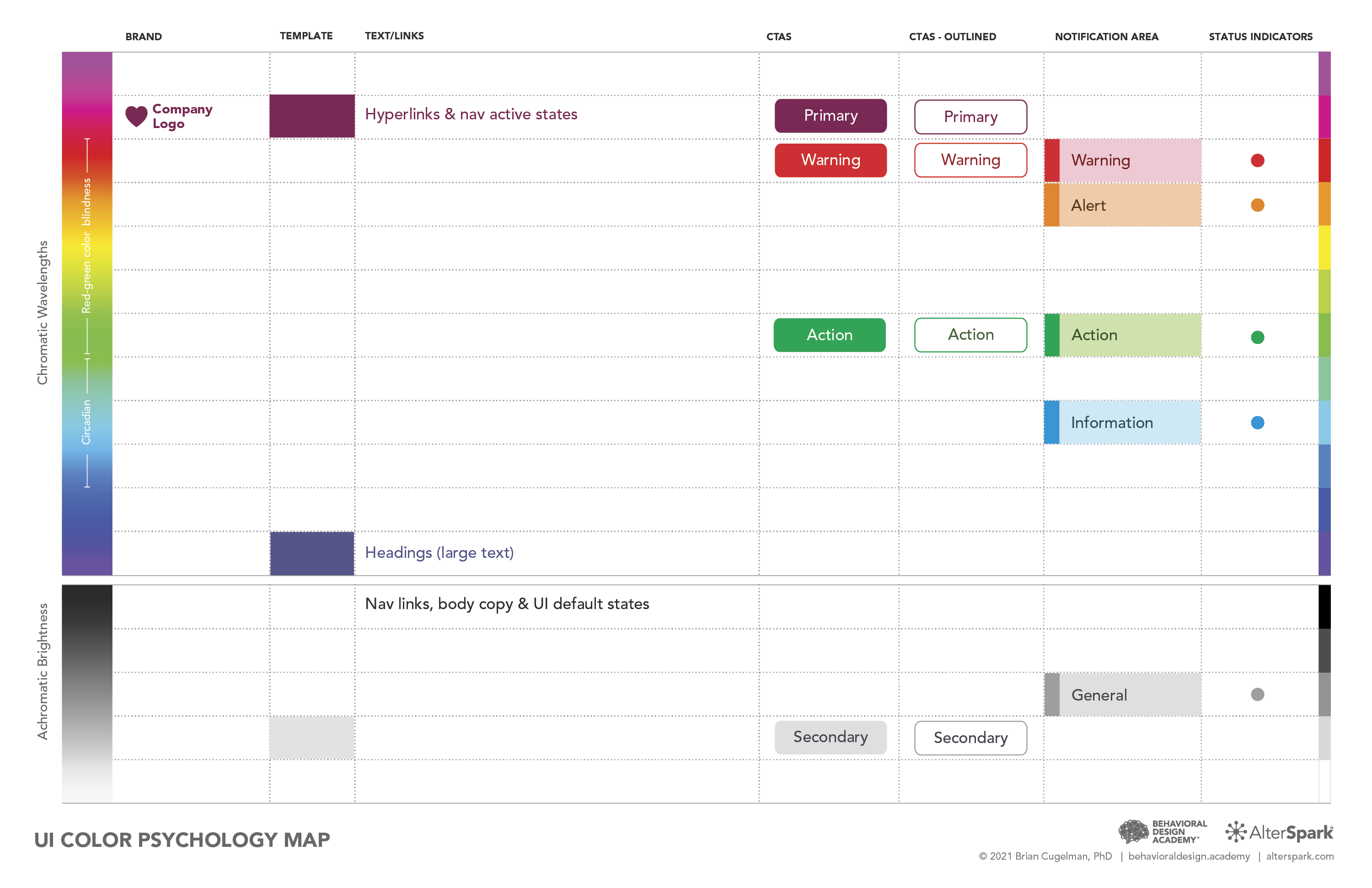 This class teaches you how to build better technology by harnessing the psychology and neuroscience of color.
You'll learn the latest science and deepen your understanding of color, what it is and how it impacts your users' perceptions, emotions, and behavior.
The class starts with an overview of the physics and biology of color perception,
then turns to color psychology, behavioral science, and emotional design.
We'll focus on hands-on applications in branding, user health, accessibility, controlling user attention, fostering instant comprehension, evoking emotions, and shaping behavior.
You'll learn how color operates in technology, covering color spaces, tech standards, and more. All materials are compatible with current and next-gen W3C CSS color standards.
This class is excellent for beginners, experts, and alumni from our other courses.
You'll enjoy around 2 LIVE classes per week, over 5 weeks.
Each class lasts 1 hour, with tutorial time afterward, for individual feedback and open discussions.
Though we officially schedule 30 minutes for tutorials, Dr. Cugelman typically sticks around as long as students wish–within reason.
Here's what you'll learn:
1. Light, color & vision
This lesson starts with a conceptual review of light, color, and the electromagnetic spectrum. Next, we'll discuss the human eye, color perception, visual impairments, and how the brain processes color. Finally, you'll learn how our biology, culture, and language bias the colors we notice and those we ignore.
2. Color systems & technology
This lesson explains how different color systems work then covers technology-based color systems. We show you why sRGB sucks and why the W3C proposes CIELAB-based CSS standards. We'll also cover technical color standards, metrics, and other essentials. You'll learn how color systems in tech impact aesthetics, accessibility, and the intuitiveness of colors. Finally, we'll show you the behavioral color system and share various design resources.
3. Behavioral design & color psychology
We'll set the goals for your color palette by exploring all the demands placed on color systems. Then we'll take a behavioral science approach. Next, you'll learn credible principles for determining which colors are best suited for evoking specific emotions, cognitive judgments, and feelings. Historically, this has been a low credibility area of science. However, the latest neuroscience, psychology, and AI research will transform your understanding.
4. Light cycles & circadian health
This lesson explains how seasonal and daily cycles of light shape users' color preferences, emotions, and physical health. You'll gain a new perspective on color temperature and the ways colors fluctuate all around us. We cover circadian rhythms and strategies for building technologies that are more engaging, less disruptive, and better at promoting user health. We cover other visual health topics then go over techniques for building healthier and more engaging technologies.
5. Controlling attention
When users don't notice important content, problems happen. Our tech becomes hard to navigate, motivating messages don't motivate, and users make mistakes. In this lesson, you'll learn how to control the salience of every visual component so users notice the parts that matter. You'll then learn to translate these strategies into a visual hierarchy that keeps your system usable, motivating, and enjoyable. What's better, your tech will feel super intuitive.
6. Instant comprehension
When designers misapply color, users feel confused, lost, and sometimes so frustrated that they leave. Miscolored charts can cause users to misjudge what numbers mean. Badly colored messages can lead users to make harmful mistakes or miss opportunities they'll regret. This lesson covers how people ascribe meaning to color, multi-sensory perception, perceptual uniformity, and symbolic understanding. We'll do over applications for UI and data visualization.
7. Motivating emotions
Nothing happens in technology till users feel something. But what colors evoke the right emotions? This lesson covers neuroaesthetics, how we form emotional associations with color, and techniques for motivating and reinforcing user behavior. We cover Dr. Cugelman's motivational quadrant system and show you how to use the Color Psychology Map in emotional design. We also cover research techniques for uncovering emotion-color associations.
8. Conscious behavior
There are times when we want our users to form routine habits with our interfaces. But at other times, we need them to stop, think, and make a conscious decision. In this lesson, we go over design strategies for different levels of consciousness, focusing on forming color-behavior associations that foster unconscious, habitual behavior. We also cover techniques for stopping the flow and forcing users to stop and pay attention.
9. Trustworthy brands
There are so many problems associated with color and branding. When zealots push brand colors too aggressively, this can destroy functional UI, damage products, and corrode user trust. When colors don't foster instant familiarity, we miss an opportunity to boost their confidence and warm them up. In this lesson, we cover the psychology of branding and delve into color strategies for building effective branding colors.
Many of our design resources are already online.
However, you'll get access to our latest resources and a few bonuses we haven't published.
Technology-focused color psychology
To be clear, this class focuses on using color psychology for digital products and campaigns.
Here's how we stay color-tech focused:
Most examples focus on digital media, like web, mobile, and digital campaigns
We also cover specialist applications, like data visualization, AI, IOT, and ambient light tech
We focus on typical interactive design challenges and trends
We use UX prototyping tools
We are using sRGB, an outdated standard, but focused on the next-gen W3C CSS HDR color proposals
Our entire color system is HTML compatible and related to standard templating systems
Learn by seeing the psychology of color
It's hard to teach color psychology with words. You need to see the colors, which is why we teach visually. In each lesson, we show you principles using images, interactive surveys, and drawings that make it easy to understand and absorb the content.
We've spent years converting psychological color studies to visual maps that show you how color and psychology work.
What's even better is we've pegged our color system to sRGB-based colors, all CSS compliant. This way, everything we cover is implementable using the same color system.
If that's not enough, each lesson looks at practical applications with our design tool, the UI Color Psychology Map.
We'll use this tool to show you exactly how every insight from psychology feeds into implementable visual design strategies.
This is a LIVE online class, one where we invite you to keep your mic and camera on so we can interact as if we were in a physical classroom.
To learn more about our teaching approach, visit our online learning page.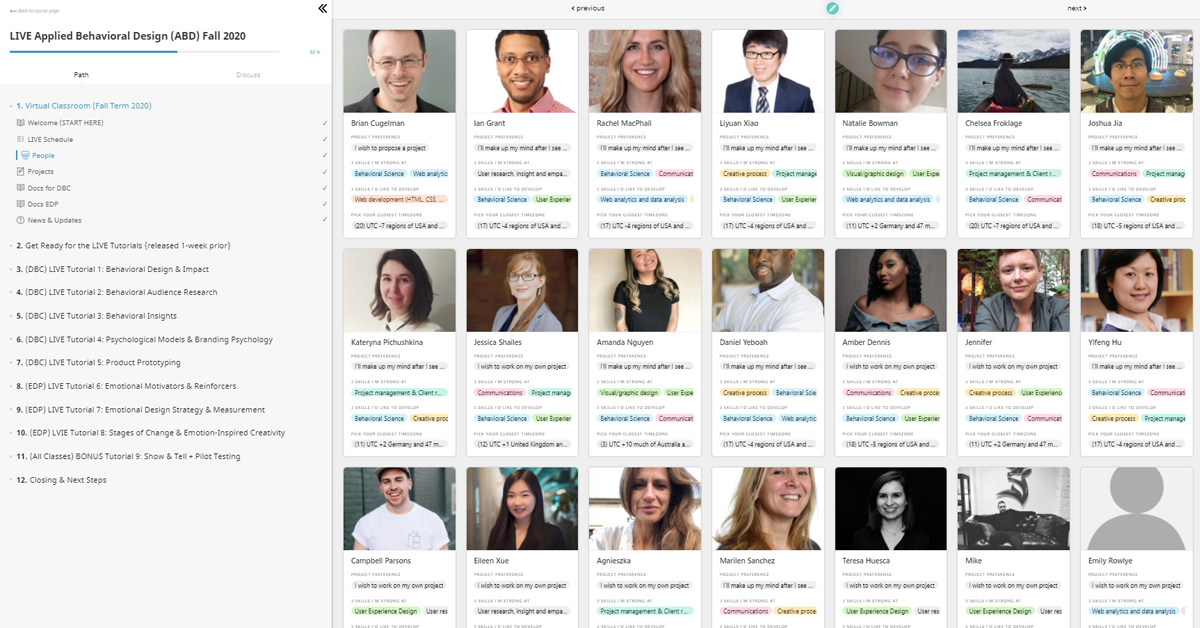 Timing
This class runs each Monday and Wednesday at 13:00 EST.
We record each class so you can catch up with the recording if you have a scheduling conflict.
If you're outside the EST timezone, you can join the class and ask questions in the course group.
Secure registration
All online payments are processed securely by PayPal and Stripe. Plus we use 128-bit encryption on all digital properties, verified by Comodo.
 Need a hand?
If you need a hand with our payment system or require any formal documents, contact us at +1 (888) 977-2055 or team(at)alterspark.com.
Satisfaction guarantee
We know you'll gain a lot from our training, but we offer a 48-hour window to receive a 100% refund if our online training does not meet your expectations. See the details.
Next steps
The next step takes you to our secure enrollment page. After enrolling, you'll receive a confirmation message and full access.
I'm enrolled in DBC, EDP, or ABD. How is this class different?
We designed this class as a standalone course compatible with our entire training system. Unlike our other courses, this class only focuses on the psychology of color for interactive and behavioral design. We designed this course so that anyone can follow the content, whether they're enrolled in our training system or not. If you are taking our other courses, this class fits in perfectly with our training system. If you're not taking any of our other courses, we'll give you the background so that it's easy to follow.
What if I can't attend the time of day for the LIVE tutorials?
We do our best to accommodate students with scheduling conflicts. Whether it's a tight agenda, time zone misfit, or other timing issues, we have a handful of solutions. We post a recording of each tutorial right after, and you can submit any questions or homework ahead of time. Naturally, Dr. Cugelman prioritizes giving feedback to students who attend.
Is this class relevant to print, photography, and video?
Since we specialize in using psychology for technology, we typically focus on behavioral and UX design, plus digital communications and marketing. Nonetheless, color science is generic and relevant to many applications. If you're interested in how color psychology applies to domains outside our core focus, you'll enjoy our lessons, but our examples may not fit the exact applications you're looking for. We're not going to focus on print, photography, video, the design of physical products, and other creative applications, but if you're good at connecting the dots, you'll have no problem translating our lessons to other domains.
Overcome design hell with ease
With each challenge, become wiser and more adaptable
Modern color systems need to be accessible, emotionally evocative, intuitive, brand compatible, and more. They need to survive office politics and sometimes pass regulations.
To further immerse and engage you, we've structured this course like a hero's journey, where you'll go on a quest to overcome the most demanding color design challenges.
We introduce several new lessons on color psychology for each challenge and discuss how you might combine these with standard industry practice. This will give you a new perspective and inspire you with new ways to overcome common design problems.
At the end of each class, we map all our insights to the UI Color Psychology Map, which helps us visually map out the psychological threats and opportunities for each design challenge.
As you pass each challenge, you'll better understand which parts of the color spectrum matter for accessibility, health, comprehension, emotion, and more.
With each challenge, you'll become wiser and more adaptable.
When we teach in classrooms, we weave the behavioral design process into our lessons, guiding you through the process during our lessons, scenario-based learning exercises, design challenges, and lots of hands-on exercises.
Reboot your knowledge of color and the brain
Translating the latest color science into plain language
If you've ever felt frustrated while researching the psychology of color, there's a good reason. Many of the color psychology theories are outdated and don't work. Compared to other scientific fields, there's not much research on color and the brain.
Perhaps the biggest barrier is that sRGB, which we use in technology, does not match human perception. Because of this, scientists who run credible studies on color and emotion need to use complex math just to select colors. This leaves the best scientific insights lost, with this knowledge gap filled by bloggers inventing nonsense claims about color and the brain.
However, things are finally improving. Advances in evolutionary psychology, neuroscience, and animal studies are providing new insights into how colors shape our perception, emotion, and behavior.
MRIs have changed the game too, opening up neuroaesthetics and a spectrum of insights into the way our brain processes color. Research on artificial intelligence is changing our understanding of how we use color to read other people's emotions, possibly explaining the biological basis for how we form color-emotion associations. This research is groundbreaking.
On the web, there are finally moves to adopt broader gamut color systems that will change the way we use psychology-inspired color strategies.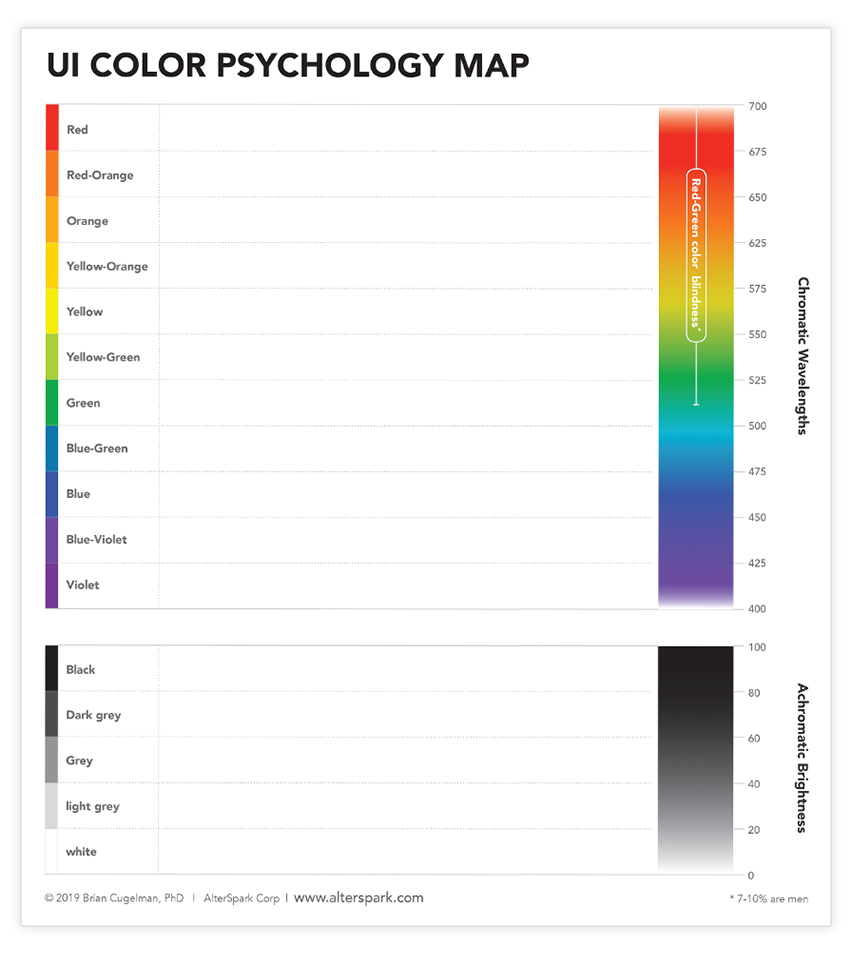 Time to trash sRGB
In the tech industry, we like to think of ourselves as progressive. But when it comes to color, we're laggards.
sRGB is an outdated legacy color system that didn't make sense when developed in 1996. Adobe attempted to create a less rubbish color system soon after but lost the standards-setting battle. The result has been disastrous, forcing the entire tech industry to use a color system that does not match human perception.
The situation is so bad that it's impossible to use RGB "out of the box" for human-centered design. That's why visual design work includes so much trial and error. And good luck using RGB for research on color! You're bound to fail because RGB and all the derived systems (HSL, HSB, etc.) do not match how humans perceive color. It's like trying to measure things using a massively warped ruler.
The situation is so bad that the photography, video, and broadcasting industries have all rejected RGB and moved to HDR color. Even the W3C has put forward standards for HDR color, but we're still waiting for the tech industry to catch up.
Introducing the behavioral color system
We've developed a suite of color tools to help you overcome these limits, build on credible science, and move towards color wizardry. We've done the heavy lifting, translating CIELAB color space to a visual design system that is more compatible with RGB and interactive design standards.
It's impossible to find a perfect fit with today's technology, but we've done our best to balance between the legacy color systems used today and the HDR color systems of tomorrow.
We've packaged all of this into a suite of visual design resources that will deepen your insight through a color system that's grounded in human perception, cognition, and emotion. This will help you manage the situation today while developing strategies and tech standards to fit the color systems of tomorrow.
Corporate Training With Deliverables
We also offer Corporate Training where we'll train your team while building your digital products and campaigns.
Education, product design, and creative campaign content–that's a sweet deal. Contact us to learn more.
Join thousands who've completed our training
From beginners to pros in top companies
Guarantees and Terms
All training come with our Guarantees and Terms. Please read these before enrolling.